Celbridge equalise late to deny Ardclough Semi-Final Win – SHC
SHC Semi-Final
22nd September @ Conneff Park, Clane
Ardclough 1-14 Celbridge 1-14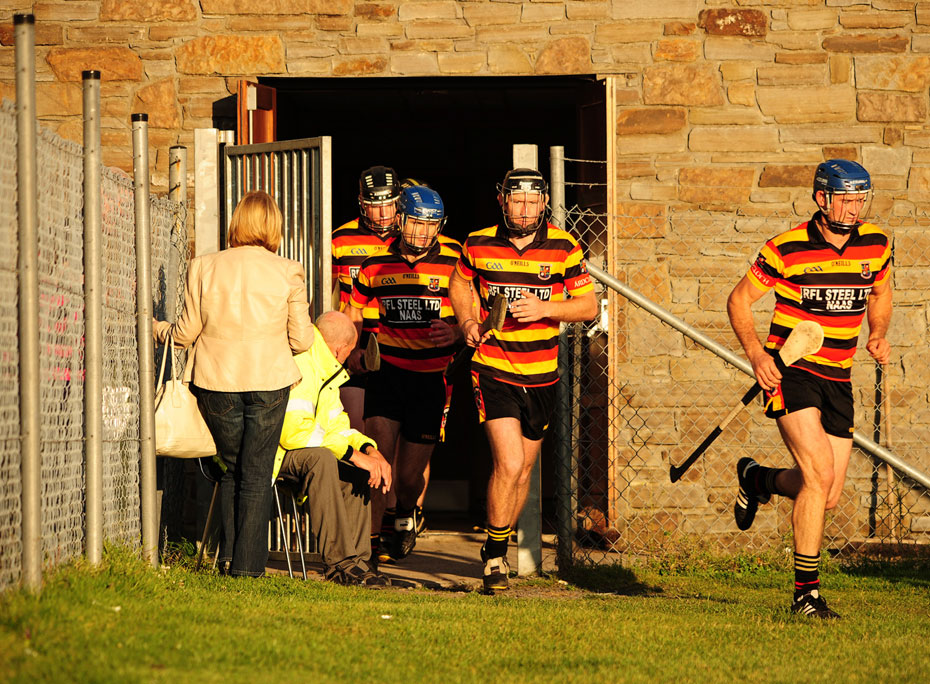 A Tony Spain goal in injury-time looked to have won it for Ardclough but Tony Murphy's last second point for Celbridge insured this Senior Hurling Championship Semi-Final ended in a draw.
Ardclough held a three point lead at the break in this tightly contested match but a second half Gerry Keegan goal spurred Celbridge on to set up a tense finish.
After eight minutes of the first half Celbridge had started promisingly and lead by three points, thanks to Gerry Keegan and Sam White (2 frees).
Ten minutes in and Ardclough had their first score, from Martin Fitzgerald, with Brian Coulston getting another shortly after.
Coulston tied up the game midway through the half, after good build-up play by Cathal Fenton.
Celbridge got another from Keegan, after over ten minutes of scoreless play for the reigning champions, and they now had the lead.
Ardclough hit back strongly though and grabbed the advantage  with four unanswered points in five minutes, thanks to the sticks of Richie Hoban (2) and Martin Fitzgerald (2).
Celbridge  countered with two frees from the reliable Sam White.
But Ardclough pushed on before the break to get two further points, again Coulston and Murt Fitzgerald getting the scores.
Half-time
Ardclough 0-09
Celbridge 0-06
After the break Celbridge's Sam White and Ardclough's Martin Fitzgerald exchanged two points a-piece before another Fitzgerald managed to get Ardclough further in front.
Celbridge were now fading but just when they needed a score Gerry Keegan stepped up to find the net. His goal coming at the end of a mazy run through the Ardclough defence.
Sam White kept the scoring going for Celbridge with a '65 and Keegan nearly found the net soon after as they continued to look dangerous.
Celbridge then regained the lead with a fine strike from Fergal Conway and added another point from a Sam White free.
The sides were level once more with less than seven minutes to go, thanks to points from Brian Coulston and Cathal Fenton for Ardclough.
But with injury-time approaching the reigning champions had surged in front with two points from Keegan and Mark Moloney and Ardclough were in trouble. But there was still a couple of dramatic turns left in this tie.
Brendan Byrne went in search of a goal at the scoreboard end and his attacked ended in joy for Ardclough. Tony Spain driving the ball to the net from point blank range after a scramble in the Celbridge square.
Ardclough now lead by the minimum with time running out and Celbridge needed to score next if there were to force a draw.
And that's exactly what they did, Tony Murphy grasping a puck-out, finding space on the wing and driving over to ensure a thrilling end and a replay in a weeks' time.
Ardclough:
Aidan Buggle; Niall Coulston, Seán Buggle, Peter Coleman; Enda Duane, Richie Hoban 0-02, Robbie Spain; Martin Fitzgerald 0-07 (3f's), Ronan O'Malley; Colm Buggy, Brian Coulston 0-04, Tony Spain 1-00; Brendan Byrne, Cathal Fenton 0-01, Paul Fitzgerald
Subs:
Philip Fitzgerald for Hoban (56m)
Celbridge:
Niall Lanigan; Tom Finnerty, Fiachra Ó Muineacháin, Pa Curtain; Aidan McDonagh, Donal Moloney, Niall Ó Muineacháin; Sam White 0-08 (6f's, 1'65), Danny Butler; Gerry Keegan 1-03, Fergal Conway 0-01, Tony Murphy 0-01; Mark Moloney 0-01, Conor Kenny, Kevin Murphy
Subs: 
Paddy Moloney for K.Murphy (h/t)
Referee: Paddy Moore (Clane)