Maynooth claim back to back IHC titles
IHC Final
7th October @ St. Conleth's Park, Newbridge
Maynooth 0-12 Ardclough 1-04
A youthful Maynooth side claimed back to back Intermediate Hurling Championship titles with an impressive victory over Ardclough at St. Conleth's Park.
Maynooth built the foundations of their win in the first half, scoring seven points from five different scorers, while Ardclough had to settle with a pointed Mark Lynam free to show for their first half efforts.
Half-Time
Maynooth 0-07
Ardclough 0-01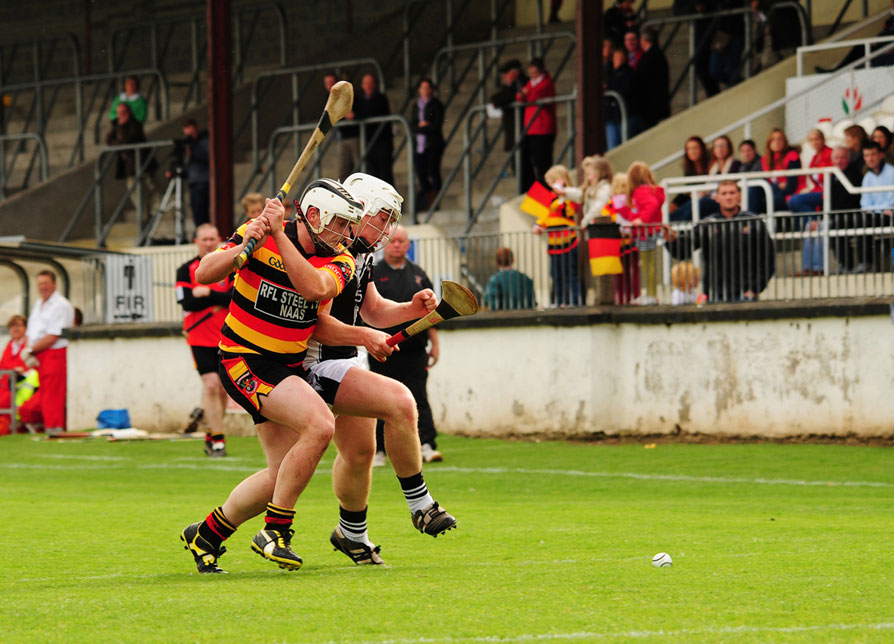 Maynooth picked up where they left off after the break, adding two more points but there was to be a fightback from Ardclough.
The 'Clough's mustered 1-02 as they tried to narrow the gap, with the goal coming from sub Pádraic O'Malley's ground strike in a crowded square and the points from Mark Lynam and Declan Higgins.
Maynooth found their form again in the closing stages and a fine effort from Cian Forde was followed by two more, one each from Mikey Gillick and Mark Cummins, to seal victory for Maynooth by five points. 
Maynooth will now go return to the senior grade for next season.
Ardclough:
Mike Hogan; Derek McNamara, Ambrose Finnerty, Darragh Walsh; Barry Molloy, Colm Maguire, Ciarán O Toole; Niall Devane, Tristan McGarr; Declan Higgins 0-1f, John Coulston , Ray Lynam; Mark Lynam 0-3 (2fs), Tomas Ryan, Paul Hogan .
Subs:
David Collins for Ryan (38mins), Pádraic O Malley 1-0 for Coulston (39mins), Tadhg McGrath for R Lynam, (49mins), Dermot Coulston for McGarr (56mins)
Maynooth:
Shane Nolan; Andy Horan, Shane Barry, Joe Brennan; Paul Moylan, Harry Oliver, Seán Higgins; Fiachra Lohan 0-01 (sideline cut),Graham Kenny 0-2; Mikey Gillick 0-1, Éanna Lohan 0-2, Chris Hobbs; Fergal Molloy, Mark Cummins 0-2 (1f) Cian Forde 0-3.
 Subs:
Brendan Coffey for Molloy (41mins), Conor Nolan for Hobbs (58mins) Andrew Higgins for Gillick (62mins)